Bedugul
Bedugul is one of the places / Bali tourist attraction that offers the natural beauty of mountains and lakes. A high place to make this area is always shrouded in mist and cold air. Bedugul area is part of the district of Tabanan and is approximately 70 km or 2.5 hours from the International Airport (Airport), Ngurah Rai.
This area is served by regular bemo Batubulan departing from the terminal in Denpasar on the south, and from Singaraja in the north. Perama bus company has local offices in Sari Artha Inn Bedugul.
How To Get There?
A common way for visitors to appreciate this beautiful mountain region is to rent a car and driver for the day from their base in South Bali. Make sure you have drivers who know the area well, and all agree with the price determined. Depending on the class of car, price of between Rp 500,000 and 600,000, including gasoline. Car parking fee and entrance fee will be charged extra, and always offer to buy lunch for the drivers.
If you live in Bedugul, renting a motorbike is a good idea because some of the distance between the places to be visited quite a distance. Your hotel will be able to arrange this and the rental price of Rp 50,000 to 80,000 per day.cycling is very nice here.
This area has been served by local bemo, and the main gathering place in and around the car park in Market Candikuning, and in Sub Pancasari just before you reach the Lake Buyan. Be prepared for local users, they bring all sorts of market results , including live chickens and other animals.
Bali Botanical Gardens (Kebun Raya Eka Karya) at Bedugul. Open at 8:00 to 18:00 hours every day. Heaven. That's the first impression when you set foot in Eka Raya Botanical Garden. Taste tired, tired, stressed, or feeling the burden will gradually disappear when it enters the area botanical garden Eka Karya this. Its location not far from Lake Beratan, about 2 km. The distance is about 2 hours or 70 km from Denpasar or 40 km from Singaraja by land route. To enter the territory of Eka Karya botanical gardens, you will be charged at Rp 7000
Jatiluwih, (in the main Sangeh to activate Bedugul Babanan west road about 8 km before you reach Bedugul. Follow the signs Jatiluwih and you will reach the booth to pay.). A surprisingly beautiful and green area, terraced rice fields located in the shadow of Mount Batukaru. Take your time and explore thoroughly. In 2007 was nominated as a UNESCO world heritage site. Rp 10,000 per person plus Rp 5,000 per car.
Munduk Waterfall at Bedugul, (about 1 km west of the market Munduk). This waterfall is impressive and the roar is really in the rainy season. A place that is rarely visited, Waterfall is probably the most impressive in the entire island. Ticket price  Rp 5,000.
Ulun Danu Bratan (Lake Bratan Temple), Lake Bratan, Bedugul. open at 7:00 to 17:00 every day. After Tanah Lot, this is probably the most photographed temple on the island and of course one of the iconic image of Bali. The temple sits at the western edge of Lake Bratan and can give the illusion of actually floating on the water. Built in 1633, Lake Beratan Bedugul is located in the area, the Village Candikuning, Baturiti District, Tabanan, Bali. Being in the provincial road between Denpasar – Singaraja and situated close to the Eka Karya Botanical Garden to make this place into one of the prime tourist island of Bali. Besides easy reach of Lake Beratan also provides a variety of charm and adequate accommodation. Beratan Lake is one tourist attraction in Bedugul that unfortunately if you miss. The cool weather during the day make you feel comfortable to enjoy the scenery around the lake Beratan. To enjoy the scenery around the lake, you can rent a boat and canoe boot. It is suitable for you and your family or with your partner to enjoy the natural beauty around the lake Beratan.
In the middle of the lake there is a Ulun Danu Temple, the which is a Shrine to the Sang Hyang Goddess Danu as a giver of fertility. A beautiful temple in the atmosphere That is truly amazing. Ticket price of Rp 5,000.
Explore the road in the mountains and enjoy the beautiful scenery. The area around the west of Lake Munduk Tamblingan very spectacular, and you can continue the journey through the village towards Banyuatis Munduk and then all the way to Seririt near Lovina on the north coast.
Water sports on Lake Bratan. Parasailing speedboat rides, and jetskis are all available. A more environmentally conscious may want to restrict their activities to the lake rowing boat hire. This is all controlled from Bedugul Recreational Park (entrance Rp 10,000) in southern Lake Bratan.
Treking in the mountains and around the lake is very useful. There is a regular, organized group departure from Recreation Park on Lake Bratan Bedugul and Botanical Gardens. If you need individual guidance to plan your own trip, the hotel you will be able to help or ask at Recreation Park Bedugul.
Organized popular treks include:
- The Ascent of Mount Catur, height 2096 m, starting at Recreation Park Bedugul. It is    quite a stiff climb.
- Around Lake Tamblingan, returned with the canoe. A very relaxing trip.
- Approximately Jatiluwih with a choice of 2 hour stroll to an 8 hour trip stiff.
- Munduk area is also popular and very beautiful.
Hot water Angseri located approximately 20km south of the center of Bedugul. Of the major markets head directly south. It is also sign-posted.
Bali Treetop Adventure Park, the Botanical Gardens. This park covers six main circuit that stretched from tree to tree with nets, Tarzan Jumps and bridges. Each run also features "Flying Fox 'zip-line up to 160 meters, giving a feeling of heart palpitations for the guests, as they fly through the air. Two circuits are designed for children younger than 4 years olds. Address wibeside http://www.balitreetop.com/
The Best Accommodation in Bedugul, Just Click Hotel Name's for More Ditel & booking :

1. Bedugul Lake View Residence, $ 105 , Jalan Pancasari, Bedugul, Bali, Indonesia
2. Anaheim Villa Lake Buyan, $ 91, Banjar Asah Panji, Desa Wanagiri, Sukasada, Bedugul, Bali, Indonesia
3. Bali Handara Kosaido Country Club, $ 58,  Jl. Denpasar, Desa Pancasari, Bedugul, Bali, Indonesia
4. Care Resort Bali, $ 52  Dusun Peken, Desa Pancasari, Bedugul, Bali, Indonesia
5. Green Villa, $ 26  Jl. Raya Bedugul, Bedugul, Bali, Indonesia
6. Saranam Eco Resort, $ 50,   Jl. Raya Baturiti, Br. Pacung, Desa Baturiti, Bedugul, Bali, Indonesia
7.  Pacung Indah Hotel, $ 17 Desa Pacung, Bedugul, Bali, Indonesia.
More accommodation list, just Click the logos at  below: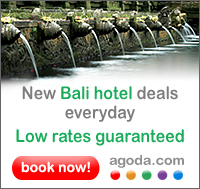 Source :  Bedugul