BIRA BEACH
Bira is a village located in South Sulawesi, and 190 km from Makassar. Tanjung Bira in Subdistrict Bonto Bahari, District Bulukumba, which is about 40 km towards the south of the City Bulukumba. Tanjung Bira has a beautiful white sand beaches. This beach is great for sunbathing, snorkeling, walking around the place, swim, and relax. You can also visit your place of manufacture of ships. Tourism has begun to grow in this place, access to this place is nice and the accommodations are pretty good. To place you can go diving around  Jubah, Liukang, Selayar Island, etc. and for the shipbuilding Pinisi, in Tanah Beru.
The rainy season in this place occurred in April-June. This is very different from that of the monsoon rains in Makassar, Bali and Java which occurred in December-February, when the rainy season in Makassar, Bira in the dry season.
BIRA BEACH, How to get there?
When you use a boat, you will arrive at the Port of Bira, this place is a lean on a ferry to the island Selayar and Labuanbajo (Flores). Also you can go to Selayar Island by rental Boat. At the west monsoon season this place is visited by boat with the classic style, which is usually operated for cruise ships and diving. these ships coming to this place for repair.
When you use the bus from Terminal Malangkeri in Makassar to Bira Rp 50,000, and to Tanjung Bira with public transportation car Rp 15,000.
You can also hire a car to get to  from Makassar to Bira, car rental rates Rp 450,000 / day include drivers. and gasoline around Rp 200,000. From makassar to Bira around 5-6 hour.
If You Rent Boat for going around/ diving/ Snorkeling at Kambing Island and Selayar Island, The price around  Rp 250.000.
BIRA BEACH, What will You Do There?
Bira beach is a great place for snorkeling and diving, soft white sand beaches and beautiful. This place is not too crowded by tourists, so it's nice to enjoy a quiet, relaxing and sunbathing. to get around in this area is enough to walk. Crowd on the beach by local tourists usually slowly quiet before noon. The sun makes them choose to rest and start playing again on the beach during the afternoon. Beautiful Sunset Beach Tanjung Bira not lose with sunset at other beaches, making you reluctant to leave the beach until the night before. The best location to enjoy the whole scene is from the side of the beach where there is a lodging-inn directly facing the beach. From here we can see the island in the southern Liukangloe Tanjung Bira or harbor lighthouse lights Selayar Island which is also famous for its tourist attraction Takabonerate sea at night.
Diving and Snorkeling, Strait that stretches from Bira to Seraya has a 16 Km long, Strait is good for an interesting dive sites. Famous diving spot here is the Kambing Island and Pasi Tanete. If you dive here, you should use a dive guide who knows this area, because the currents here, the some dangerous.
Dive point at Bira and Seraya :  Depo, Tanjung Cuni, Tanjung Tampu, Pulau Pasitanete, Pulau Pasitanete Lighthouse, Pulau Kambing, Cape Bira, Bira Coral garden (Pantai kechil) and Mara Masak Pinnacles.
Diving in Takabonerate . Takabonerate (Level Bone Lake) is located southwest of the island Selayar and is the third largest coral atoll in the world. Spread over 2220 square kilometers in the Flores Sea, there are coral reefs and seagrass ecosystems. Atoll offers some excellent wall diving. This area is a National Marine Park of Indonesia and thus there should be no fishermen. Diving is normaly done in the area untouched. There are plenty of fish such as Wahoo, barracuda, giant Trevally, marlin, sailfish, yellowfins, dogtooth tuna and mackerel.  There is also a new resort on an island, named Tinabo Dive Resort : http://www.tinaboisland.com. and also on the islands in Takabonerate, many sea turtles lay eggs here. Access to the Takabonerate group is from Bira,  There is a ferry to Pamatate on Pulau Selayar.
Tanah Beru, Tanah Beru is a place shipbuilding Pinisi, To go to this place about 25 miles from Bulukumba to Tanjung Bira, you will pass through this place. Tanah Beru is a village that makes the boat pinisi. You will see how local people make traditional boat. every connection wood, connected by wood pins and without technical drawings. now the price of the ship becomes expensive, since the price of wood rises, but this is not a problem, many boats are produced here.
The Best Accommodation Around Bira, Just Click Hotel Name's For more Ditel & Booking :
1. Hotel Aryaduta Makassar, Jl. Somba Opu No. 297, Makassar City Center, Makassar, Indonesia 90111
2. Sahid Jaya Ujungpandang Hotel, Jl. Dr. Sam Ratulangi No. 33, Ujung Pandang, Makassar 90132
3.Hotel Santika Makassar , Jl. Sultan Hasanuddin No. 40, Makassar 90132
4. Aston Makassar Hotel & Convention Center. $62. Jl. Sultan Hasanuddin 10 Makassar, Makassar City Center, Makassar, Indonesia
5. Anging Mammiri Hotel. $42. Jl. Somba Opu no. 249, Makassar City Center, Makassar, Indonesia
6. Hotel Denpasar. $39.  Jl. Boulevard Ruko Jasper Panakukkang Mas II 1, Makassar City Center, Makassar, Indonesi
7. Losari Beach Hotel Makassar. $41. Jl Penghibur No 10, Makassar, Indonesia
8. Amaris Hotel Panakkukang. $35. Jalan Bougenville, Panakkukang, Makassar, Indonesia
9. Sahid Jaya Ujungpandang Hotel. $89. Jl. Dr. Sam Ratulangi No. 33, Ujung Pandang, Makassar City Center, Makassar, Indonesia
10. Royal Regency Hotel. $38. Jl. Daeng Tompo, 8 , Makassar City Center, Makassar, Indonesia
More Accommodation Around Bira Beach, just Click The Logos at Below :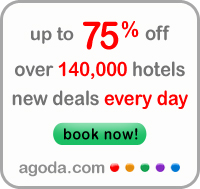 Accommodation in Selayar Island: Selayar Dive Resort.
Dive operators and liveaboards to Bira and Selayar : Selayar Dive Resort and S.M.Y Ondina : http://www.thebestdivingintheworld.com.
Dive operators and liveaboards to Takabonerate:
1. Selayar Dive Resort
2. Tinabo Dive Resort: http://www.tinaboisland.com
3. SongLine Cruises: http://www.songlinecruises.com
4. Ciska: http://www.starfish.ch/dive/Sulawesisoutheast.html # Ciska
5. Marlin dive center: http://www.marlindive.com
6. Divestacic liveaboards
7. Felidae
8. Bali Dive Cruise: http://www.bali-dive-cruise.com/locations/selayar.htm
Source : Bira Beach