Denpasar
Denpasar is the largest city and capital of the island of Bali, Indonesia. It is located in South Bali. Denpasar there are many temples, palaces, museums, friendly people, and this place also as a multi-cultural place. Denpasar City is a city famous for its many shopping options that make you happy.
Denpasar is Bali's provincial government center. Ungurah Rai Airport is located 13 km from the city center and close to Kuta.
How To  Get There ?
Denpasar is located in the center and easily reached by car / taxi from the main tourist area at south of Bali. drive from Kuta, Legian and Seminyak to Denpasar will take 20-30 minutes depending on traffic. Of Sanur just 15 minutes to the east, and from Ubud around 30 minutes to the north. from Tabanan about 40 minutes to the northwest. using a metered taxi from the airport to Denpasar Rp 70000-100000, depending on where you are going in Denpasar
The main bus terminal is Ubung Denpasar, which also bemo terminal.
Most buses to and from Java depart from here.
To and from Surabaya, Java: Rp 120.000 fares by bus the night the Executive, including the ferry trip between Banyuwangi and Gilimanuk, mineral water and snacks. Buses arrive at bus terminal Bungurasih Surabaya. Depart 7:00 every day, long trip 10 hours. There are also buses to and from major cities in Java, including Jakarta, Yogyakarta, Bandung and Semarang.
Bali bemo Center at here. bemo terminals scattered throughout the city, and transfers between them can take time and money. The main pathways are:
Tegal, to the west, to South Bali ( Kuta, Legian, Jimbaran, Nusa Dua, Sanur, Uluwatu).
Ubung, to the north, to points north and west: (Gilimanuk,  Singaraja, Tabanan.)
Batubulan, 6 miles northeast, to the point of central and eastern: (Besakih, Kintamani, Klungkung, Padangbai, Ubud).
before rising to ask the normal price to people around, or will be charged the price of 10 times. You will not find Bemo after 16:00 hours, and when bemo will depart, they will wait for passengers to bemo full of passengers. after full they will leave
Bemo transport in the city of Denpasar, Denpasar Route bemo in very complicated. In addition to the three terminals are described in the section above that operate bemo longer distances, there are three more to handle the local route of Mount Agung, Sanglah and Kereneng. To go from one terminal other bemo in town, fixed price Rp 7,000 while non-Indonesia may be asked to pay more. If you have a group of people, you may want to negotiate bemo (small van) for a set rate to your destination. Remember that the price can be negotiated.
Taxis are widely available here. A taxi can work cheaper, faster and certainly more comfortable than the Bemo. Taxi using a meter  in Denpasar.
Motorbikes can be rented, although it is more normal for visitors to come up with a motorcycle instead of renting one here.
What Will You See There ?
Alun-alun Puputan  (Puputan Square), Jl Suprati / Jl Gajah Mada. Four large-faced, eight-armed statue of Catur Mukha located here is the point of the city center. Lord Brahma represents and serves as a guard every cardinal point. Square is the key point of orientation for the entire city. If you get lost, which became the benchmark for you is to find your way back here and all will be clear.
Lapangan Puputan Margarana (Puputan Park), Jl Raya Puputan, Denpasar . Magnificent park is home to a large Bajra Sandhi Monument is a symbol of Balinese People's Struggle. The design of the monument from gray stone symbolizes the date of Indonesia's independence, August 17, 1945. There are eight entrances, 17 right angle and height is 45 meters. The most significant monument of warning though for those of various puputans from Bali in the struggle against the Dutch in the early 20th century. On the edge of the park nortern you'll find the governor's office and other government buildings.
Museum Bali (Bali Provincial State Museum), Jl. Walikota Wisnu, Denpasar (east side of the Square Puputan), 0361 222 680. Open Saturday-Thursday 8:00-3: 30pm, Friday 8:00 to 11:00 open. A place that describes the historical and modern-day. Originally opened in 1910, the building was destroyed by the earthquake of 1917 and abandoned until 1932 when the population of the German artist Walter Spies trigger big revival. Reason and architecture that is quite captivating, and the museum placed in four separate pavilions. The main pavilion has a large collection including anicent stone, bronze and wood artifacts. The houses many textile south pavilion, pavilion north of the history of the performing arts concetrates Baliense, and the central pavilion devoted to the Hindu Balinese and rituals. admission price of Rp 3,000.
Sidik Jari Museum, Jl Hayam Wuruk175, Denpasar .0361 23 511. Open 9:00 to 5:00 every day. Small place, a private art museum, founded and owned by I Gusti Ngurah Gede acceleration and showing the self-employed and assisted by other artists. Also has facilities for public dancing and other peformances.
Taman Wedhi Budaya Cultural Centre, Jl Nusa Indah, Denpasar, Open 8:00-3: 30pm every day. A museum covering the history and essence of Balinese art. Classical schools are well represented by both paintings and sculptures and there is a big part of contemporary art featuring Bali. Gamelan performances are also held here. ticket prices Rp 3,000.
When visiting any of the temples in Denpasar, remember to bring a sarong and sash with you. These temples receive relatively few foreign visitors and are unlikely to have temple dress available for hire.
Palace of Satria and the Royal Temples, Jl Veteren, Denpasar (about 300 metres north of Alun-Alun Puputan). Open at 8:00 to 4:00 every day. Palaces and temples of the royal family a wonderful and amazing Denpasar, Denpasar is open to all citizens to worship. Some beautifully carved decorations in here, even by the standards of Bali. no admission, just give donations.
Pura Agung Jagatnata (Jagatnata Temple), (not far from boudnary north Bali Museum). A country that built the temple in 1953. Dedicated to the highest Sanghyang Widi Wasa, the temple is open to all pilgrims without any restriction as it is a government building and not the village temple. There was a big ceremony here twice a month at full moon and dark moon. Ask at the tourist office or your hotel for the ceremony.
Pura Maospahit (Maospahit Temple), Jl Sutomo, Denpasar . An ancient temple with a long history, this place is estimated to come from the 14th century. This is the typical peak of the Majapahit temple mostly built from red brick. Unfortunately, many of which were destroyed in an earthquake early-20th century but there are some remnants of the original including guardian statues in the courtyard. This temple is beautiful and rarely visited by tourists. Here you can enjoy the atmosphere of the temple, and your solitude here.
 What Will You Do In  Denpasar?
Not many things you can do in Denpasar, except shopping, best places to shop in Bali is Denpasar, below are the places where you can shop.
Badung Central Market on Jalan Gajah Mada, wakti best to visit this place is in the morning. Basic level is devoted to fresh foods, dry foods and spices are in the second level and crafts can be found at the top level.
Duta Silk is a fabulous silk emporium located at Block 1, Komplex Duta Permai (next to Matahari Department store) on Jalan Dewi Sartika.
There are several shopping centers in Denpasar, the most famous, namely: Ramayana at Jalan Diponegoro, Matahari Duta Plaza, Jalan Dewi Sartika, and vice versa Robinsons Sun. This mall has a large number of shops selling everything from clothing, arts and crafts shops as well as everyday and also pharmacies.
Myriad of small shops that sell fabrics and local works at Jalan Thamrin and Jalan Gajah Mada.
Gold store with competitive prices and abundant in Jalan Hasanuddin and Jalan Sulawesi.
The Best Accommodation In Denpasar, Click Hotel Name's  for Booking & More Ditel :
1. Grand Mega Resort & Spa Bali. $68 Jl. By Pass Ngurah Rai No. 234, Simpang Siur, Kuta, Denpasar, Bali, Indonesia
2. BPC City Hotel. $44. Jl Teuku Umar Barat No 234, Denpasar, Bali, Indonesia
3. Villa Rendezvous. $87. Jl. Gunung Sanghyang, Muding Mekar 1, Gg Melati No.1, Denpasar, Bali
4. Bali Corner Residence. $44. cok agung tresna no89, Denpasar, Bali, Indonesia
5. Hotel Kubu Indah. $35. Jalan Buana Raya Gang Buana Turi No. 9, Denpasar, Bali, Indonesia
6. Hotel Dwi Santika. $53. Jalan Mahendradata (Padang Gajah), Denpasar, Bali, Indonesia
7. Hotel Penginapan Pondok Indah. $35. Jalan Mahendradata Selatan, Denpasar, Bali, Indonesia
8. Penginapan Dwi Santika. $35. Jalan Padang Gajah, Padang Sambian, Denpasar, Bali, Indonesia
9. Hotel Intan Sari. $87. Jalan Thamrin 1-3, Denpasar, Bali, Indonesia
10. Penginapan Tegal Indah. $35. Jalan Tangkupan Perahu Gang Saraswati No. 9, Denpasar, Bali, Indonesi
11. Revayah Ayung Villa Denpasar. $873. Jl. Sekar Tunjung XII No. 188, Denpasar, Bali, Indonesia
12. Puri Ayu Hotel. $39. Jl. Jendral Sudirman No.14 A Denpasar, Denpasar, Bali, Indonesia
13. Inna Bali Hotel Business & Meeting. $44. Jl. Veteran No. 3, Denpasar, Bali, Indonesia
14. Hotel Pendawa. $24. Jalan Hasanudin No. 4, Denpasar, Bali, Indonesia
15. Monica Bali Villa. $191. Pendidikan Strett, Sidakarya, Denpasar, Bali, Indonesia
16. Sanur Avenue. $19. By Pass NGurah Rai no. 198 , Denpasar, Bali, Indonesia
17. Puri Segina Residence. $31. Jalan. Mahendradatta Selatan, Denpasar, Bali, Indonesia
18. Seruni Guest House. $27. Jl. Padang Luwih, Tegal Jaya, Denpasar, Bali, Indonesia
19. The Banyumas Residence. $45. Jalan. Tukad Banyumas No. 1, Denpasar, Bali, Indonesia
20. Umaseni Villa. $57. Jalan. Noja Gang XII No. 47, Denpasar, Bali, Indonesia
21. Grand City Inn. $37. Tukad Badung Street no. 211X, Denpasar, Bali, Indonesia
22. KOI Hotel & Residence. $31. Jalan. Mahendradata, Denpasar, Bali, Indonesia
23. Hotel Ratu/Queen Hotel. $31. Yos Sudarso No: 4, Denpasar, Bali, Indonesia
24. Candra Adhi Graha Hotel. $16. Jalan. Nangka 37 no. 57, Denpasar, Bali, Indonesia
25. Cempaka Bali Suites. $21. Jalan Tukad Ciliwung No. 8 Renon, Denpasar, Bali, Indonesia
26. Puri Kekayon Villa. $156. Gelogor Carik st,no 31 Denpasar Selatan, Denpasar, Bali, Indonesia
27. Bali Contour Private Residentel. $31. Jalan. Subur (Monang-Maning, Komplek Mirah Hati, Denpasar, Bali, Indonesia
28. Taman Suci Suite & Villas. $48. Jl. Moh. Yamin V No. 1 Renon, Denpasar, Bali, Indones
29. Pulau Bali Hotel. $9. Jalan. Gunung Semeru No. 3, Denpasar, Bali, Indonesia
30. All Seasons Bali Denpasar Hotel. $40. Jl. Teuku Umar No. 183, Denpasar, Bali, Indonesia
More Accommodations in Denpasar,  Just Click Logo at Below :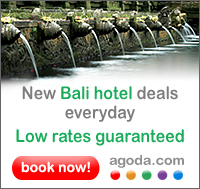 Source :  Denpasar