Flores
Flores is located in Nusa Tenggara and largest city of Maumere. Flores is also located on the west island Lembatan and Alor islands, east of the island of Komodo and the north island of Sumba.
Cities in Flores:
Labuan Bajo: The starting point to go to Komodo Islands and diving and snorkeling
Ende: The Island and the departure point for Ferries to West Timor
Maumere: Center for diving / snorkeling and easiest place to fly in and out of Flores
Riung: Center for diving / snorkeling
Moni: The starting point for the track up Mount Flores
Bajawa: the best areas in Nusa Tenggara to see the traditional house of ethnic minority.
Ruteng: Village Center entnis minority interest.
Other destination:
Kalimutu: three colors of the famous lake.
Kalong Island (Pulau Kalong): Seeing the hundreds of bats flying into space from an island magrove (Labuan Bajo) at evening.
Seraya Island): a place for diving and snorkeling.
The majority of the population on this island catholic religion.
How to get there?
Flores has a few airports, but the main airport at Maumere. at the airport there are daily flights to Denpasar and Labuan Bajo.
There are several travel companies that organize trips by ship between Bali-Lombok-Flores – Komodo and Rinca. cost of travel by ship Rp 1.00.000
Get around in Flores
To go short distances on Flores could be the Bemo. is an inexpensive way to travel.
What will u see at Flores ?
The attraction of this area is to view the three colored lake called kalimutu in Ende, the latest color of this lake turquoise, green and red.
Flores has a miraculous place of snorkeling and diving along the north coast. Komoda and Riung place. but in Riung coral reefs have been damaged, because the local fishermen to take coral for sale to tourists and catch fish by bombing. But very different from the islands of Komodo, because this place is protected and kept so that the natural preservation of coral reef life here is still pure.
Accommodation in Flores,  just Click Logo at Below :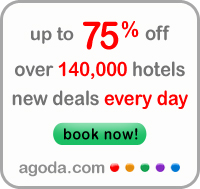 Source : Flores