Jakarta
Jakarta is the capital city of Indonesia and is the largest city, located northwest of the island of Java.
Jakarta administratively divided into several districts, and districts were as follows: Jakarta Pusat (Central Jakarta),  A district with several sites symbol Jakarta, National Monument. The old section of Jakarta (Batavia), the Presidential Palace, office buildings, hotels, roads prosecutors (Touris Area for Bagpacker), Mangga Dua shopping center, offices, roundabout HI (Hotel Indonesia traffic circle) and the elite residential area is Menteng all found in Central Jakarta . Jakarta Barat (West Jakarta), Jakarta's Chinatown, this area include museums, trade centers, the hub of nightlife, shopping centers and malls. It also is the site of the old town of Jakarta. Jakarta Timur (East Jakarta), Location Taman Mini Indonesia Indah, Golf, Utan Kayu, arts community, the camp ground Cibubur, industrial parks and airport Halim Perdanakusuma. Jakarta Utara (North Jakarta), Beautiful Thousand Islands, Ancol beach and Kelapa Gading as a shopping center. Jakarta Selatan (South Jakarta), Where you can find shopping centers, zoos, malls, restaurants, hotels, offices, entertainment centers of nightlife, Block M, Senayan sports complex, Kemang (Touris area) and the affluent residential area.
Suburbs around Jakarta : Bekasi, Industrial Areas. Bogor, The Beautifu Castle House countryl , world-class botanical gardens, golf courses. Depok,  Home to the University of Indonesia Jakarta, Soekarno-Hatta Airport, golf courses, industrial areas, Lippo Karawaci.
Jakarta's history is very long, but here will be explained briefly. The name of Pelabuhan Sunda Kelapa created in the 12th century, when it served the kingdom of Pajajaran now called Bogor. The first Europeans to arrive were the Portuguese, who were given permission by the Hindu kingdom Pakuan Pajajaran to establish a warehouse in 1522. at the time control is still strong in local hands, and in 1527 the city was conquered by Prince Fatahillah, Prince Fatahillah was a Muslim prince from Cirebon, who changed the name of Pelabuhan Sunda Kelapa  to Jayakarta.
At the end of the 16th century, the Dutch led by Jan Pieterszoon Coen, had taken over the port city of England, and flatten the British fort at tahuni 1619. then the Dutch gave the name of Batavia, the Dutch city of the newly created it became the capital of the Dutch East Indies and is known as the Queen of the East.
In 1740, the Netherlands employing slaves from China, they work as a farm laborer, then there is a revolt by the slaves of the Chinese against the Dutch. The rebellion was crushed hard with the slaughter of thousands of Chinese slaves. Chinese slaves remaining exiled to Sri Lanka and the others are still living in Indonesia.
In 1795 France beat the Netherlands, and on March 17, 1798, the Batavian Republic became a satellite state of France, and took over all debts and assets of VOC. But on August 26, 1811, a British expedition led by Lord Minto defeat the French / Dutch in Jakarta, which leads to a short release and the next administration in Indonesia by the British, led by Sir Stamford Raffles in the year 1811-1816. In 1815, after the Congress of Vienna, Indonesia was officially handed over from Britain to the Dutch government. The name Jakarta was adopted as a short form of the White Rose when the city was conquered by Japan in 1942. and After the Japanese left Indonesia, and Indonesia declared kemerdekaaannya on August 17, 1945, the Dutch still wanted control of Indonesia again, and struck Indonesia again helped by NICA troops. Because the situation was not unsafe, then the central government in Jakarta was moved briefly to Yogyakarta after the Dutch attack. The war lasted until 1949, the Dutch finally accepted the independence of Indonesia and handed back to the city, which became Indonesia's capital again.
Since the independence of Indonesia, Jakarta's population has skyrocketed, because many migrants come to cities in search of wealth. residents in the Greater Jakarta (Jakarta-Bogor-Tangerang-Bekasi) metropolitan area is estimated to have 16-18000000 people, numbers are projected to double to 30 million in 2016. now the official name of this city is Daerah Khusus Ibukota Jakarta Raya (DKI Jakarta), DKI which means"Special Capital City Region".
Social stauts in Jakarta is very contrast with one another, The rich with the sedan from Europe into the Supermall with shops that sell expensive products are famous in the world, into the path of a full rundown of street children begging and zinc shacks. The city traffic is always trafficjam, and the air polluted with the smell of burning garbage, streams and open ditches (smelly and full of garbage), and security is a concern especially at night. Keep in mind that the rules and regulations are rarely enforced in all aspects of life in Jakarta, many violations. This is not to invite you to break the rules, but only to explain why many of its citizens to act so recklessly, and break the rules, especially on the road and everyday life. If you can withstand the pollution in Jakarta and are able to enjoy its charm, you can find what's become one of the most attractive in Asia, the cities most vibrant. There's plenty to do in Jakarta, from cosmopolitan shopping at the luxury shopping center for one of the hippest nightlife scenes in Southeast asia and see the buildings of heritage.
How to  Get There ?
Soekarno Hatta International Airport is located in Tangerang, Banten. All international flights and most domestic flights land here, is located 20 km (12 miles) to the northwest of the city. Cengkareng is the name of the district where the airport is located. During the rainy season the road to / from Cengkareng flood-prone but this problem has now been overcome by building a road for cars, double lift, the highway between the city and Cengkareng. If you do not have the option of non-stop between your home city and Jakarta, try connecting via Singapore or Kuala Lumpur because there is more than a dozen daily flights between Jakarta and cities in Indonesia.
Soekarno Hatta has three terminal, further divided into subterminals, which is really just a space in the same building: Terminal 1 (A, B, C). Used by domestic airlines except Air Asia, Mandala, Garuda. Terminal 2. All international flights (D, E), and F terminal for domestic flights of Garuda. Terminal 3 (Terminal Operator Low Cost). Latest and best of the bunch, Pier 1 serves domestic air flights in Asia and all flights Mandala.
Departure Tax In March 2009, Soekarno-Hatta Airport departure tax fee of Rp 150,000 for international flights and Rp 40,000 for domestic flights, payable in cash only. Foreign currencies can be accepted, but it's better to leave enough dollars to pay;
A free shuttle bus between terminal, but can be relied upon to walk between terminals, if you're in a hurry, it's a safe bet to take a taxi, although they will ask for Rp 50,000 a bit expensive for the service, they ask this because half of the cost of that money to pay their parking fees.
Visa on arrival is available at the airport. If possible, change the appropriate use (in dollars) and you should ignore any requests for bribes. currency exchange and ATMs are available in the baggage hall, and Terminal D has a luggage service. Visa on Arrival is paid in cash only and the nearest ATM when passing through the customs area. The exchange rate is not significantly worse than downtown and better than you would get from the hotel. Remember that you will need cash, and Jakarta is not a place where you can just walk to the nearest bank in the city because the city is not friendly to pedestrians.
If you take a domestic flight from Soekarno Hatta Airport, you can enjoy a cheap airport lounge. There are several private lounges are open to tourists, the airlines are in fierce competition with each other. Rp 50,000, you can get some hours in a lounge where you can relax and sit comfortably on the couch, eat and drink as much as you want and use the internet facilities, either with wifi or via their computers).
To go to the city, the easiest option is to contact the hotel to pick you up at the airport, like many hotels in Jakarta provide free airport transfers. Getting a taxi is a bit more complicated. If you order from the counter just outside the Customs, you will get a nice car, go to the head of the queue and pay around Rp 175,000 for a trip to the Golden Triangle. This counter can also sell the card SIM Card for Mobile Phone and refill. If you are past the counter, you will get to the regular taxi line – and faced many brokers/luggage carrier, which can and should be ignored and will probably require waving off (just waved and shook his head or just say no). Silver Bird is a very reliable service with good drivers and taxi luxury with Mercedes, but the price is around Rp 120,000 to the Golden Triangle. Blue Bird has a bit simple but still nice air-conditioned car, and will cost about Rp 100,000. Other operators will charge you around Rp 90.000 – Rp 100,000.
Xtrans, 021 5296-2255, 021 5296-4477. Provides airport shuttle service from Soekarno Hatta airport to major hotels in Jalan Sudirman and Thamrin in Jakarta. Earth Xtrans to Cihampelas Street in Bandung. Cost: U.S. $ 3.30/adult and $ 2.20/child. Schedule: every hour from 5:00 to 10:00 a.m.. Xtrans booth are available in Terminal IA, IB, IC and IIE.
Jakarta Airport Transfer, Three Bridges Road 5AH Raya, North Jakarta, Jakarta 2754 021 9062 (Info@jakartaairporttransfer.com). Door to door transportion to Jakarta city and surrounding towns. The whole day rent a car available in Jakarta and Bandung, with drivers if needed. Airport Transfers provides a choice of stops in Puncak, Bogor, Cirebon with the economic choice (7 seater) or jumbo vehicles (15 seater). Online reservation and instant confirmation. Bandung Daily Express is an option although more expensive for travelers to Bandung at a price of Rp 300,000 / passenger
DAMRI shuttle bus that connects to the destination Rawamangun Jakarta, Pasar Minggu, Blok M and Gambir Rp 20,000 as well as directly to the city of Bekasi, Bogor and Depok Rp 30,000. Bus service operates until midnight and comfortable. You can get tickets at the counter a lot after exiting the airport, or just pay on the bus. If arriving by international flights, to the left after leaving the building until you see the ticket booth and bus stop DAMRI.
Halim Perdanakusuma old Airport, located in the southeast of the city, used by military, VIP flights, charter flights, helicopter leasing companies and private jets. Susi Air for local destination around West Java from Halim Airport. 0811 211 3080.
Trains, information on train tickets from PT Kereta Api (Persero) is available on the Web: www.kereta-api.co.id. In Jakarta, you can buy tickets at the station of up to 30 days in advance. Except on weekends, and can order online, you can usually buy a ticket before departure. Beware of ticket scalpers! They will offer their goods even to the people waiting in line in front of the ticket sales point. You should expect to pay 50-100% more if you do, and you may find that you have an empty train seats, too.
Jakarta has several train stations: Gambir station, The main station is currently long-distance passenger is Gambir station in Jakarta, which is located in Central Jakarta, on the east Monas.untuk Executive class (AC) arrived at this station.Most trains from major cities in Java such as: Purwokerto, Yogyakarta, Solo, Semarang, Malang and Surabaya arrived in the afternoon or evening. From London: trains are frequent, with one arriving almost every hour 2. Length: 3 to 3.5 hours, in business or the Executive (the air-conditioned class only, Rp 60,000). Economy class train is slow. Very nice landscape of rice and agricultural fields. From New York: Argo Bromo Anggrek a very good trip twice a day. Duration: 10 hours 30 minutes, USD 265 000 for a week in the Executive. Price increases during weekends and on holidays. Be aware that the AC is very cold, so bring some warm clothes. You can order food on the train. From Semarang: Semarang-Jakarta route served by Argo Muria comfortable, which depart from the station in Semarang Tawang, as well as the Argo Bromo Orchid, Argo Sindoro, and Sembrani transit in Semarang. Rp 170.000-Rp 210,000 or more during the peak season.
Pasar Senen station, the train is cheaper with no air conditioning and business generally use the Pasar Senen station located two blocks east of Gambir. Beware that this location is filled with crime and pickpockets, although the station itself has been spruced up. Anyway, this economic train is not really recommended for excursions: they are slow, poor facilities, they are overloaded. But you can use the Business class train, the train is quite comfortable.
Jatinegara Station, Most trains such as economics, business, and executives arrived in Jakarta also stopped at the station in the eastern city Jatinegara, providing better access to the east and south of the city.
Kota Station, Jakarta Kota station located in the old town, and serves as a departure point for electric trains and some trains to the Peacock. This is an attractive Art Deco style building is being restored.
Buses, Passengers from other cities arrive in bus terminal as Rawamangun Kampung Rambutan, Pulogadung (East Jakarta), Kali Deres (West Jakarta) or Lebak Bulus (South Jakarta). You should speak Indonesian at least simple, and terminal famous for robbers and pickpockets, so watch the luggage under Stay safe. Boat, the national ferry company, PELNI, and other sealines, operates passenger services to destinations across the archipelago from Tanjung Priok port in North of the city. Several small speedboats, especially going to the Thousand Islands (Pulau Seribu), depart from Ancol also on the north coast of Muara Anke, Jakarta.
Get around in Jakarta
When you get around Jakarta is the problem. The layout of the city chaotic and totally confusing, the traffic is worst in Southeast Asia with horrendous traffic jams that slow down the city during rush hour, and the rail system is currently inadequate to say the least. Construction of a monorail system, started in 2004, but soon stopped more because of political strife and a glimmer of hope is to expand the main Transjakarta Busway (Bus Rapid Transit) system. Various areas of the city have different levels of clutter. The traffic is the most well-organized only in the Golden Triangle (MH Thamrin, General Sudirman, and HR Rasuna Said.), A new housing complex also has a good traffic as well.
Train, train Electricity in Jakarta connecting downtown with the outlying regions, namely Jakarta, Depok, Bojonggede, Bogor, Tangerang and Serpong. Electric train service operates from 5:00 (the first train left for Jakarta to Bogor) was almost 10:00 at night, last train leaving Jakarta to Bogor. Trains often run late, though. Weekend special services connect Depok and Bogor to the popular Ancol entertainment park in Jakarta.
Electric train service are below: center Line (1) JAKARTA CITY: Jayakarta – Mangga Besar – Sawah Besar – JUANDA – GAMBIR – Gondangdia – Cikini – Manggarai – Tebet – Cawang – Duren Kalibata – Pasar Minggu Baru – Pasar Minggu – Tanjung Barat – Surabaya Agung – Universitas Pancasila – Universitas Indonesia – Pondok China – DEPOK NEW – Depok – Citayam – BOJONGGEDE – Cilebut – BOGOR
Center Line (2): Angke – Duri – Tanahabang – Rubber – Manggarai and continue BOGOR Tangerang line (1): JAKARTA KOTA – Kampung Bandan – Angke – Duri – Grogol – urine – Kembangan – Bojong Indah – Rawabuaya – Kalideres – Poris – Batuceper – Tanahtinggi – TANGERANG Tangerang line (2): MANGGARAI – SUDIRMAN – Rubber – Tanahabang – spines and continue TANGERANG
Serpong line (1): JAKARTA KOTA – Kampung Bandan – Angke – Duri – Tanahabang – Palmerah – Kebayoran – Pondokranji – Sudimara – Rawabuntu – Serpong Serpong line (2): MANGGARAI – SUDIRMAN – Rubber – Tanahabang and continue Serpong
Bekasi line (1): Tanah abang – Karet – Manggarai – Jatinegara – Klender – Buaran – Klenderbaru – Cakung – Rawabebek – Kranji – BEKASI Bekasi line (2): JAKARTA KOTA – Jayakarta – Mangga Besar – Sawah Besar – JUANDA – GAMBIR – Gondangdia – Cikini – Manggarai – Jatinegara and continue BEKASI Bekasi line (3): JAKARTA KOTA – Kampungbandan – Rajawali – Kemayoran – Pasar Senen – Gang Sentiong – Kramat – Pondokjati – Jatinegara and continue BEKASI
Station names written with CAPITALS regular express stops. Some express trains stop at other stations only at certain times outside of rush hour. All trains in addition to not stop at Gambir station, the main station in Jakarta, so this might be a problem for those who arrive from other areas and want to continue to another station. The options are to take an express train to the nearest station and continues with other forms of transport, or take a taxi to Juanda station, located a few hundred yards north of Gambier, close enough if you want to walk or ojek. If coming from the area of ??Jalan Jaksa, another option is to simply walk into Gondangdia (the next one south of Gambir) station, it is only 5-10 minutes walk to the left of the southern tip of Attorney or by using a ojek.
There are four types of trains: express (air-conditioned non-stop trains, generally most useful for electric trains go / come back from work), semi-express (similar to express, but with stops again, runs out of rush hour ), AC Economics (all-stop, air-conditioned) and Economics.
Economy-class ride is not recommended:  crime, sexual harassment and the passengers stood on electric trains during rush hours, despite the obvious dangers of overhead wires. travel by electric train economics is an exciting experience. This is a tour of the dark side of Jakarta, with peddlers offering every imaginable article (from the pin for mobile starter kit), a variety of entertainment, ranging from one orchestra to a full-sized band, and the opportunity to sample real poverty; you ride a slum on wheels. Just remember to keep an eye on your belongings at all times, not flashing valuables if it has, and if you have a purse, hold in front of you.
Busway, Transjakarta busway / bus busway is a modern, air-conditioned and generally comfortable, though sometimes overcrowded by passengers. Buses are often crowded during rush hours. below the busway route in late 2010. Line 1: Blok M – Grand Mosque – Roundabout Senayan – Bung Karno – Polda Metro – Benhil – Karet – Setia Budi – Hamlet Top – Tosari – Hotel Indonesia roundabout – Sarinah – Bank Indonesia – Monas – Harmoni – Sawah Besar – Mangga Besar – Olimo – Glodok – City Row 2: (to Harmoni) Pulo Gadung – Bermis – Pulomas – Asmi – Pedongkelan – Cempaka Timur – Hospital Islam – Cempaka Tengah – Pasar Cempaka Putih – Rawa Selatan – Strain – Senen – Atrium – Army Hospital – Department of Foreign Affairs – Gambir I – Istiqlal – Juanda – Pecenongan – Harmoni Central Busway. (To Pulogadung) Harmoni Central Busway – Balai Kota – Gambir II – Kwitang – Monday – Strain – Rawa Selatan – Pasar Cempaka Putih – Cempaka Tengah – Hospital Islam – Cempaka Timur – Pedongkelan – Asmi – Pulomas – Bermis – Pulogadung Row 3: (for Kalideres) Harmoni Central Busway – Pecenongan – Juanda – Pasar Baru – Juanda – Pecenongan – Jelambar – Indosiar – Park City – Hanging Bridge – Revenue – New Bridge – Rawa Buaya – Well Drilling – Pesakih – Kalideres. (For Harmoni Central Busway) Kalideres – Pesakih – Well Drilling – Rawa Buaya – New Bridge – Revenue – Hanging Bridge – Park City – Indosiar – Jelambar – Harmoni Central Busway. Line 4: Pulogadung – Market Pulogadung – Tasks – Pertamina – Telkom – Tarakanita – Sunan Giri – Teachers' Training College – Justice – BPKP – Utan Kayu – Pasar Genjing – Market Boy Scouts – Matraman – Manggarai – Pasar Grass – Hazy – Upper Hamlet Line 5: Kampung Melayu – Pasar Jatinegara (to Kampung Melayu) – Kebon Pala – Slamet Riyadi – moor – Matraman – Salemba – Kramat Sentiong NU – Palputih – Monday – DEPARTMENT OF Finance – Budi Utomo – Golden Truly – Lautze – Kartini – Red Bridge – Mangga Dua Square – WTC – Ancol Line 6: Ragunan – DEPARTMENT of Agriculture – SMK 57 – Duren Three – Pejaten – Buncit Indah – Warung Jati Indah – Immigration – Mampang Prapatan / Hero – Kuningan Timur – MOH – Patra Kuningan – Pasar Festival – Kuningan – Kuningan Madya – Menara Duta – Latuharhari – Mist – Upper Hamlet Line 7: Kampung Rambutan – Tanah Merdeka – Makro – Harapan Bunda Hospital – Main Market Kramat Jati – Terminal Cililitan – Maj. Sutoyo – UKI – Bakornas Drugs RI – Flats – Venues Teenagers – Treasury – Kampung Melayu Row 8: Tomang Grogol-2 – Jelambar-Indosiar-Kedoya Green Garden-Kedoya Duri Kepa-Assiddiqiyah-Kebun Jeruk, Kelapa Dua-Sasak Pengumben Post-RS-Simprug Medika Permata Hijau, Kebayoran Lama Kebayoran Lama-Market-Land-Bungur charioteer -Pondok Indah Mall Pondok Indah, Pondok Pinang-South-Lebak BulusJalur 9: Pinang Ranti – Taman Mini Garuda – Market Kramat Jati – Cililitan – Sutoyo BKN – Cawang CIU – Cawang BNN – Cawang Ciliwung – Cikoko Cawang Station – Tevet BKPM – Jewel Monument – West Jewel – Tegal Parang – Western Brass – Gatot Subroto Jamsostek – LIPI Gatot Subroto – Semanggi – JCC Senayan – Slipi Petamburan – Slipi Kemanggisan – S. Parman Harapan Kita – S. Parman Central Park – Grogol 2 – Railway Station Latumeten – Iron Bridge – Bridge Two – Three Bridges – Penjaringan – Pluit Line 10: Cililitan – Cililitan PGC – Sutoyo BKN – Cawang CIU – Sutoyo Cawang – Penas Panjaitan – Kebon Nanas Cipinang – Prumpung cart – Jatinegara Station – Utan Kayu Ramawangun – BPKP Scout 2 – White Wood Rawasari – Horse Racing Pulomas – Cempaka Putih – Jos Sudarso Cempaka Mas – Kodamar Yos Sudarso – Kelapa Gading Sunter – Plumpang Pertamina – Mayor of North Jakarta – Koja Permai – Enggano – Tanjung Priok. Four other corridors to be completed before the end of 2016.
Transfer points for Transjakarta Busway lines are: Hamlet Above: Busway Line 1, 4 and 6 Mist: Busway Line 4 and 6 Kampung Melayu: Busway Line 4 and 7 Harmoni Central Busway: Line 1,2,3 Juanda: Busway Line 2 and 3 Pulogadung: Busway Line 2 and 4 Matraman: Busway Line 4 and 5 Senen: Busway Line 2 and 5 Jelambar & Indosiar: Busway Line 3 and 8 Clover / Benhill: Busway Line 1 and 9 Kuningan Barat: Busway Line 6 and 9 Grogol 2: Busway Line 3 and 9 Grogol BKN: Busway Line 7 and 9 Cililitan, BKN Sutoyo, UKI Cawang: Busway Line 7.9 and 10 Unlike most other buses in Jakarta, a dedicated busway and passengers must use a special station with automatic doors, usually found in the middle of a big main road that connects with both sides of the bridge overhead. The system is very user-friendly standard Jakarta. station announcements and an LED display inside the vehicle. Buses run from 5:00 to 21:00 every day. Tickets cost a flat Rp 2,000 before 7:00, and Rp 3,500 after. Transfers between lines are free to be careful not to get out of the system until your trip is completed. Buses can be very crowded, especially at rush hour at 07:00 and 16:00, when office workers go home. Applications Transjakarta map is also available on the Internet. application is free.
Bus, If you're feeling adventurous, by October 2005 a flat rate for regular buses Rp 2,000, while air conditioned buses (Patas AC Mayasari ) cost Rp 5,000. Cheap but is Mikrolet (mini bus) and public transportation (small van) which serves the small streets and the price varies from Rp 1,500 to 2,500, but good luck thinking of a route. You pay the fee directly to the driver after the fall. You may need to reserve one or two Rp 500 coins before boarding the bus, as there are on-board "entertainment" and other distractions. On a typical day, you may find street musicians, street peddlers. If you happen to be traveling on the bus, refrain from sitting or standing in the back of the bus like this, because it vulnerable to crime. Always keep an eye on your stuff, because a lot of thieves and pickpocketing. Do note that buses do not run according to schedule or no schedule. Sometimes a bus may take a while to come, but in other circumstances, might be that two of the same bus routes may come together and this driver will definitely push aggressively to get more passengers. They do not stop at any particular bus stop and can stop almost anywhere they like. If you want to go down, simply say "Kiri" (left) to the "conductor" or simply knocking on the ceiling of the bus for three times (make sure that the driver heard a knock on you), and the bus driver will find a place to knock you down. An additional tip to get off the bus this is by using the left foot in advance to maintain a balance and try to get down as quickly as possible because they did not completely stop the bus. Also note that the seats on the bus was built for the people of Indonesia, not for the Caucasians and Africans. Non-Indonesia may find seats on the bus should be restricted and uncomfortable. List of bus terminals in Jakarta:, Senen (Central Jakarta), Lebak Bulus (South Jakarta), Blok M (South Jakarta), Pasar Minggu (South Jakarta), Manggarai (South Jakarta), Grogol, City, Kalideres (West Jakarta), Pulogadung (East Jakarta), Rawamangun (East Jakarta), Kampung Melayu (East Jakarta), Kampung Rambutan (East Jakarta), Tanjung Priok (North Jakarta).
Car rentals are available, If you are from a foreign country, is not advisable to rent a car and driving yourself. The traffic is chaotic and no-rules will certainly give you a headache. Renting a car with a driver much better idea. Gasoline prices Rp 4,500 / liter and diesel prices is Rp 4,500 / liter. Toll roads circle the city and more quickly when the traffic is good, but very often jammed. The main road drainage systems that are less maintained during the rainy season and the main roads may be flooded, causing traffic jam. Finding parking in residential areas can be difficult because of the narrow road. Paid parking is easy to find in malls, offices and the like usually Rp 2,000 / 1 hour plus Rp 2,000 for each subsequent hour. Road-street parking is also required to pay Rp 2,000. If you decide to drive yourself or have a driver in Jakarta, please remember that there are 3 in 1 system implemented in several major roads in the morning from 7:30 to 10:00 and on the afternoon of 4,30-7:00 where there is a requirement have at least three people in the car. The route includes the entire stretch of the railway station through the city via Blok M Jl. Hayam Wuruk, Jl. Sudirman, Jl. Thamrin and Jl.Sisingamangaraja; Jl. Gatot Subroto Senayan-JCC of the overpass to the intersection with Jl. HR Rasuna Said.
At Below the places for renting a car:
Autonet Car Rental, Jl. Gandaria VIII / 10 Central Jakarta. 021 7396518
Avis Rent A Car, Jl. P. Diponegoro 25 Jakarta Pusat. 021 3142900
PT. Bara Bentala Indonesia,  Jl. Kebon Jeruk West Jakarta Raya 126. 021 5362222
Wisma Bumiputera Bumiputera Bot Finance, Jl. Jend. Sudirman Kav. 75 Central Jakarta. 021 5224522
Rental Car 49, Jl. 49 Review of Central Jakarta. 021 6328256
PT.  Motor Sumahi Center, Jl. Hayam Wuruk 6 Central Jakarta. E: 021 3456560 PanenRental, Jl. M.H. Thamrin Kav 3, Jakarta Menara Thamrin lt.15, 021 37810282, 021 37810283 (panenrental@yahoo.com), Good variety of late model vehicles. Handfone 0897 9794497 (24 hours)
PT. Dewamuda Perkasa, Jl. Arjuna Kingdom South Perk, Kebon Jeruk New B1 C / 4 West Jakarta. 021 5321561
Elsas Cita Cemerlang  Jl. Purification of I / 30 Jakarta Pusat. 021 5719525
Car Griya Kita, Taman Rasuna Apartment no: 1506H, Jl. HR Rasuna Said Jakarta, 021 71386345 (griyamobilkita@gmail.com). Handfone 08161656652 (24 hours)
Taxis, Most visitors choose to travel by taxi, a cheaper, easier and sometimes even faster. There are many taxi companies of varying degrees of dependence. Blue Bird Group +62 21 79171234,? (24 hours) are known for their reliability, have telephone service to be efficient and always use their meter.
Several other large, usually reliable companies including Taxiku, Express, Dian Taxi, and the newly established taxi. Usually you can determine a good taxi driver by asking kepda amereka "argo?", Meaning ("Meter?"), If they say no or "No", get another taxi. Taxi parked near the train / bus stations, tourist attractions, and hotels often refuse to use the meter and offer ridiculous prices, especially of foreigners, in this case, it's a good idea to walk a bit, then call a cab. Standard taxi rate (effective February 2009) for the Blue Bird is $ 6,000 for flag fall and Rp 3,000 / km after 2 km the first. Taxi RATES marked down using the older, cheaper (flag-fall fare is Rp 5,000 usually), while the more expensive Silver Bird. Tipping is not required, but rounding up to Rp 1,000 meters closest to expect, so prepare to change some, or you may be rounded to the nearest Rp 5000, Beware that some less reputable taxi operators can use the meter is rigged. If using one of the less reputable taxi you may end up paying significantly more than when using one of the more reliable service Blue Bird. If you do not know how much cab fare to your destination should be, better to stick to the companies mentioned above, even the locals do this, or just use the Blue Bird. Keep the doors locked and windows closed when traveling in a taxi, such as luxury goods or bag can be an attractive target when stuck in traffic jams or traffic lights. Avoid using a smaller taxi companies, especially if you are alone.
Bajaj, Bajaj or Bajai Jakarta orange mutant scooter carrying passengers in a small cabin in the back. They are a popular way to get around the city because they can weave through traffic jams in Jakarta that never faileth, Bajai can be like a motorcycle. Although slow, boneshaking (suspension is not a feature in bajaj), hot and fast way to inhale exhaust fumes than you ever thought. There is no set price, but a short distance from the city blocks of more than Rp 5,000. Be sure to agree a price before you depart. Bajaj drivers overcharge visitors happy, and can often require double or even more than what you would pay by meter taxi. asked local residents who regularly use Bajai to know what the typical fare should be and are pleased to inform you. Also, because Bajai is not possible on some major roads in Jakarta, your route may take you through the alley confusing. but try to go up bajaj and feel the sensation.
Ojek, if you need a faster time to go through Jakarta traffic jams, use a motorcycle taxi driver. Jakarta motorcycle taxi service consisting of people with bikes lounging around street corners, the distance is usually short shuttle through the alleys and roads but will also make the long journey to price matching. Agree fare before you depart. And insist on a helmet, and wear it correctly. Motorcycle taxi drivers told to be very careful when riding his motorcycle.
On foot, walking around the center of Jakarta unpleasant and impractical. With the exception of some areas of the sidewalks crowded with street vendors, cart vendors, drivers ignore pedestrians and crossing roads can commit suicide. On the busy streets there are no pedestrian crossings, so it's best to follow the local people and follow them as they weave their way through the endless stream. The robbery occurred, especially on the bridge overhead, and can occur even in the daytime. If you use the pedestrian bridge, watch out for holes and steps sideways, and occasionally motorcycles and bicycles often use the bridge to cross the street illegally.
What Will You See There ?
National Museum/ MUSEUM GAJAH, Jl. Medan Merdeka Barat 12, Jakarta 10110, Indonesia. Phone: +62 21 3868172 / Fax: +62 21 3447778, the museum houses a large collection of prehistoric, ethnographic and archaeological artifacts, including one of the largest collections in the world, Southeast Asian ceramics and Hindu Javanese art. The museum was opened in 1868. Entrance fee is Rp 10,000 for foreigners and Rs 5,000 for the local population.
Textile Museum, Address: Jl. KS. Tubun No. 2-4 Petamburan, West Jakarta, Tel. (021) 5606613 Fax. (021) 5654401. Opening Hours: Tuesday-Sunday: 9:00 a.m. to 3:00 p.m. GMT. Museum houses a large collection of textiles related to religion and social practices of the major islands of the archipelago, including batik, ikat and ulos cloth.
Museum Wayang (Puppet Museum). Address: Jl. Great Northern No. door. 27 West Jakarta, Indonesia. Tel. (021) 6929560, Fax. (021) 6927289. The museum is dedicated to the doll, one of the most famous Indonesian traditional art. On display is the wayang kulit shadow puppets, three-dimensional wooden puppets and special dance masks. Opening hours: Tuesday till Sunday: 9:00 a.m. to 15:00 Monday or the day the Great: Close, Periodically Museum Wayang (Shadow Puppets Museum) held a puppet on a Sunday II, III, and the last Sunday of each month, at 10:00 to 14:00
Museum Adam Malik, Jl Diponegoro 29, Central Jakarta. A small museum dedicated to Mr. Adam Malik, a well-known figures who represent Indonesia at the UN, among many other achievements, including as foreign minister of Indonesia.
Museum Bank Mandiri, Jl. Field Station 1, Jakarta 11110, Indonesia. Phone: +62 21 6902000 / Fax: +62 21 5274477, Located in the Old City opposite the North Terminus of Corridor 1 and the City Busway Station, look at the history of banking in the Dutch colonial era. Occupying an area of ??22,176 square meters in the former building Nederlandsche Handel Maatschappij NV (1929) this is the museum's first bank in Indonesia. Museum of Classical Art Deco style in the old town of Jakarta offers the experience of time travel into the past the bank. Large collection of books, adding machines and various collections of coins, old paper money and securities can we enjoy in the living-room complete with a bank that this antique furniture. Money underground storage space is large and too small can we meet in this magnificent museum building.
Jakarta History Museum, Jl. Fatahllah Park 1, West Jakarta 11110, Indonesia. Phone: +62 21 6929101 / Fax: +62 21 6902387, scour traces the history of the capital city of Jakarta you can do by visiting the Jakarta History Museum, which occupies the former town hall building Batavia, laying stone for the construction of the building done on May 30, 1626. After experiencing some alteration of the building was designated a museum of the history of Jakarta on March 30, 1974. More than 500 collections exhibited at the museum, ranging from the collection period of Batavia, the story of the founder of Batavia, Jan Pieterszoon Coen, the sturdy cannons which are well known, the space in which the prince Diponegoro was arrested until the fountain in the middle of the first Fatahillah Park contributed to the only source of water in Batavia area. Open Hours: Tuesday – Sunday: 09:00 to 15:00. Mondays and national holidays: Closed. Admission prices: Adults: Rp 2000. Student: Rp. 1000. Student: Rp. 600. Groups of at least 20 people. Adult: Rp. 1500. Student: Rp. 750, Student: Rp. 500. Estimated travel time: 5 minutes walk from the City station.
Sasmita Loka Museum, Lembang No way. Laruharhari No. 58 and the road. 65, Central Jakarta, is open to the public from Tuesday to Sunday, from 08:00 until 14:00 pm. Every Monday the museum is closed to the public.
Museum ABRI (Military Museum), Jl. Gatot Subroto No. 14, South Jakarta.
MUSEUM SOEMPAH Pemoeda, Jl. Kramat Raya No.. 106, Central Jakarta
NATIONAL MUSEUM OF THE RESURRECTION, Jl. Abdul Rachman Saleh No.. 26 Jakarta Pusat/
MUSEUM INSCRIPTION, Jl. Tanah Abang I, Jakarta Pusat
MUSEUM FORMULATION OF DRAFT PROCLAMATION, Jl. Imam Bonjol No. 1, Central Jakarta.
MUSEUM Joang 45, Jl. Menteng Raya No.. 31, Jakarta Pusat.
MUSEUM BANK INDONESIA, Jl. Door of the Great Northern, West Jakarta.
Maritime Museum. Jl. Pasar Ikan. 1, North Jakarta, Located at the mouth of the river Ciliwung, The Maritime Museum is located in the harbor, placed in a restored Dutch barn. The first trading post Dutch East Indies. This place also has a busy fish market.
MUSEUM OF ART AND CERAMIC, Jl. No. Pos Kota. 2, West Jakarta.
Gedung Kesenian Jakarta (Jakarta Arts Theater): neo-Renaissance structure with carefully restored, and now one of the landmarks pride among the buildings in Jakarta, many of which have been preserved. Some of the staging of art are often held here.
Monas (National Monument). has a height of 137 m. National Monument, known as Monument or Tugu Monas Square is located at Monas, Central Jakarta, was built in 1960. The National Monument is one of the memorial is erected to commemorate the resistance and the Indonesian people's struggle against the Dutch colonialists. At the top there is a National Monument that sustains the cup-shaped bronze torches weighing up to 14.5 tons and 35 kg of gold coated. Torch or flame burning is a symbol of the spirit of struggle of the people of Indonesia who was never extinguished in achieving independence. Entrance is Rp 2,500, tickets to the top of Monas, Rp 7,500.
Presidential Palace, Address: Presidential Palace Jl. Veteran No. 16 Central Jakarta Telp. (021) 3863777, 3503088, Fax: (021) 3442223Terletak National Monument on the north, the official residence and office of the President of Indonesia that is open to the public on a free weekend, you should make reservations in advance and use the formal clothes, no sandals.
Gedung Proklamasi (Proclamation Building). Jl. Proclamation (formerly called Jl. Pegangsaan No. East. 56), Central Jakarta. Site independence history of Indonesia, where on August 17, 1945 Soekarno-Hatta (Indonesia's first President and Vice President) declared the independence of the nation.
Lubang Buaya / G30SPKI Monument, located Village Crocodile Hole, Cipayung subdistrict, East Jakarta. Museum tells the history of betrayal PKI PKI revolts aimed at replacing Pancasila with the communist country basis as opposed to the Pancasila, and to tell until the second uprising known as the Movement Thirty-September or G-30-S/PKI, early entrance we will greeted with some photo collections PKI rebellion, revolution Appointment bodies 7 of Heroes, and several dioramas that tell about the PKI rebellion in various Regions in Indonesia.
Sunda Kelapa Port / Old Harbour, the old port of Sunda Kelapa area until today as a bustling center for inter-island trade. sailing boat of Bugis Anggun pinisi, the world's last wind-powered sailing fleet is used for trading, still moored at the dock because they have been for a century.
Jembatan Kota Intan(Diamond City suspension bridge).  Bridge City Diamond is Dutch heritage was built in 1628, linking East and West sides of Diamond City in the Great West Road, and the only one of many suspension bridges lies never decorate the city of Batavia, North Jakarta, which will berhilir to pelabukan Sunda coconut. This bridge is there pengukit to raise the middle, so the bridge can be cleaved into two. With increasing time, the wood is the basic component of the bridge is getting older and more fragile.
Pasar Baru, back to the Dutch colonial era, has become one of the primary relationship to commodity trading. And this time, has no shortage of shops mix is packaged in a very limited space. You can bet to find the branded goods with good quality and good price here.
Jalan Surabaya (Surabaya Street). Jl. Surabaya. For a unique shopping experience, this place menual variety of antiques, residential neighborhood located on the outskirts of Menteng. A good place to bargain for an exotic treasure.
Bird Market, Located at Jalan Barito, South Jakarta and Central Jakarta Jalan Pramuka, here you can find various kinds of colorful tropical birds that are sold. very interesting place to visit.
Istiqlal Mosque, Jl. Taman Wijaya Kusuma No.. Tel: +62213511160, +62213503287. No. Fax: +62213503474. The biggest mosque in Southeast Asia.
Cathedral Church, Jl. Gereja Katedral no. 10 710 7B Central Jakarta. Phone 345 7746, 351 9186 Fax 350 9952, located right in front of the Istiqlal Mosque.
Taman Impian Jaya Ancol (Ancol Dream Park). Consisting of the World Fantasy (Fantasy world), Seaworld (for the largest aquarium in Southeast Asia), Arena Ocean (Ocean Park), resorts, hotels, beaches, marinas, and great restaurants. It's one of the largest parks in Asia. Admission, day-to Rp 133,000, Rp 163,000-weekend.
Taman Mini Indonesia Indah, Just like the name which means that Indonesia is a beautiful small park we can see the culture of Indonesia as a whole from here. You can also see the house atrandisional bermaca kinds from all over Indonesia in sini.Ia offers an interesting tour of 33 provinces in Indonesia with a sampling of more than 250 countries culture. Highlight feature is the Museum Indonesia and the Golden Conch IMAX theater.
Ragunan Zoo, located in south Jakarta near Pasar Minggu. A 185-acre zoo contains a comprehensive collection of city of some 3600 species of wildlife from all over Indonesia and some from other countries. Look for the rare Komodo dragon. The animals live in natural habitats. Schmutzer Primate Center consists of gorillas and other primate fauna. birds Indonesia. Ticket price of Rp 5000/orang, open from Monday – week.
Pulau Seribu (Thousand Islands),  Located in the north of Jakarta in the Java Sea, this stunning Thousand Islands, easily accessible by speed boat from marina Ancol or also from the port of Muara Angke. respitee beautiful island offers refreshing for those who want to escape from the bustling city.
Hidden jakarta tours. See the section of the actual Jakarta. Ronny and Anneke will take you around some local slum area where you will have the opportunity to meet local people and see how they live. The results of the tour you will go to local people and Ronny Interkultur foundation. look at this address: http://jakartahiddentour.wordpress.com.
Atmosfear Dry Slider, located in FX Sudirman jl Lifestyle Centre Mall. Sudirman, one of the slider is the world's longest and fastest.
If you stop in Jakarta, or want to Jakarta, if you can bring an empty bag of your home or consider to buy an extra suitcase, because there are lots of good shopping to be done.
Shopping Center, Although poverty destroys shown in many parts of Jakarta, Jakarta has a large number of giant malls, glittering malls. Note that, for imported goods, prices in some designer stores Plazas' can actually be higher than in your country or in another country. Up-market shopping malls in Jakarta, Grand Indonesia (Seibu, Alun-Alun Indonesia and Harvey Nichols), Plaza Indonesia (Marks and Spencer), Mal Kelapa Gading (Sogo), Plaza Senayan (Sogo and Metro), Pondok Indah Mall (Sogo and Metro ), Pacific Place (Themes M Department Store, Garden Kidzania), Mall of Indonesia (Centro), and Senayan City (Debenhams).
Market, In addition to the mall, there are also many huge shopping centers in Jakarta, quite a few that can be found in the Mangga Dua (Two Mangoes). These include large markets WTC Mangga Dua and giant (Wholesale Trade Center) Mangga Dua, a large indoor market with hundreds of shops selling everything at wholesale prices. When you shop at these places you can always bargain prices. Tanah Abang for textile and New Market are very popular with Malaysian tourists.
Shop, If necessary to avoid a huge mall and find a smaller place but the modern way to shop for daily necessities or shop then Indomaret Alfamart located almost everywhere across Jakarta, including some residential complexes. Both store chains Indonesia are equipped with international stores. Circle-K is everywhere, and since 2010, the 7-Eleven has expanded its franchise to Jakarta, with more than 10 stores. There is also circle K.
Duty Free Shops, Duty Free shops are available at Soekarno Hatta airport and a small number of shops in town. so Bring your passport to the store. If you want to shop there.
Antique shops, If you are looking for some antique products such as local handicrafts, traditional Indonesian batik, wayang (Javanese shadow), you can go to Jalan Surabaya in Central Jakarta where you can find antique stores along this road. Ancol Art Market in the center of painting and sculpture, you can ask a painter to make you as a model for your painting. Pasaraya Grande shopping center in Blok M, South Jakarta has a special floor for all the antiques and items handicrafted Indonesia. Sarinah department stores also have sections for traditional gifts for sale.
The Best Accommodation in jakarta , just Click hotel  name's for more Ditel & booking :
Near Soekarno Hatta International Airport
1. Pullman Jakarta Central Park Hotel. $112. Jl. Let. Jend S Parman Kav 28, Grogol, Jakarta, Indonesia
2. Grand Tropic Suite's Hotel. $75.  Jln. Letjend S. Parman Kav. 3, Grogol, Jakarta, Indonesia
3. Hotel Ciputra.. $39. Jalan Let. Jend. S.Parman, Grogol, Jakarta, Indonesia
4. FM7 Resort Hotel. $65.  Jl. Raya Perancis No. 67 Cengkareng, Airport Soekarno Hatta, Jakarta, Indonesia
5. Aston Cengkareng City Hotel & Conference Center. $52 Outer Ring Road, Mutiara Taman Palem Blok C 1, Cengkareng, West Jakarta
6. Sanno Hotel. $41. Jl. Pluit Selatan Raya No. 2, Glodok Kota, Jakarta, Indonesia
7. Hotel Golden Bay. $42. Jl. Teluk Gong Raya 12, Jakarta Utara, Pluit, Jakarta, Indonesia
8. Feodora Hotel Grogol. $38. Jl. Dr. Susilo Raya No. 138 C8, Petamburan, Grogol, Jakarta, Indonesia
9. Amaris Hotel Bandara Soekarno Hatta. $48.Jl. Husein Sastranegara No. 1 Benda, Airport Soekarno Hatta, Jakarta, Indonesia
10. Kchrysant Hotel.$ 26. Jl. Daan Mogot No.63, Grogol, Jakarta, Indonesia
11. Centro City Service Apartment. $44 .Macan Street kav 4-5, North Kedoya Daan Mogot, West Jakarta, Jakarta, Indonesia
12. Aryaduta Lippo Village. $89.  401 Bulevar Jendral Sudirman, Lippo Karawaci 1300, Tangerang, Tangerang, Indonesia
13. Tirta Mansion Premier. $36. Permata Bunda 1 street, Block C1/29 Lippo Village, Tangerang, Tangerang, Indonesia
14. Huswah Transit Hotel. $19 Jl. Husein Sastranegara No. 9, Airport Soekarno Hatta, Jakarta, Indonesia
15. Narita Classic Hotel.  $47. Jl. KH Hasyim Ashari 63, Tangerang, Tangerang, Indonesia
16. Great Western Resort. $53. JL. MH Thamrin KM 2.7, Tangerang, Tangerang, Indonesia
17. Mandala Hotel. $25. Dr. Sitanala Street, no. 21, Tangerang, Tangerang, Indonesia
Hotel around Thamrin
1. Millennium Hotel Sirih Jakarta. $81. Jalan Fachrudin 3, Thamrin, Jakarta, Indonesia
2. Pullman Jakarta Indonesia. $153. 59, M.H. Thamrin Street, Thamrin, Jakarta, Indonesia
3. Sari Pan Pacific Jakarta.$131.  Jl. M.H. Thamrin 6, Thamrin, Jakarta, Indonesia
4. Grand Hyatt Hotel. $240. Jalan M H Thamrin Kav 28-30, Thamrin, Jakarta, Indonesia
5. Hotel Indonesia Kempinski Jakarta. $245. Jl. MH Thamrin No. 1, Thamrin, Jakarta, Indonesia
6. Jakarta Bed & Breakfast. $70. Jalan. Mohamad Kafi I, Gang. Jamblang No. 27, Thamrin, Jakarta, Indonesia
7. Take's Mansion Service Apartment. $42. Jl. Taman kebon Sirih 1 No 3, Thamrin, Jakarta, Indonesia
8. Smart Hotel. $37. Jl. TG. Karang No.2, Thamrin, Jakarta, Indonesia
9. Kalicaa Villa Resort Tanjung Lesung. $228. Jl. Desa Tanjung Jaya, Pandeglang-Banten, Thamrin, Jakarta, Indonesia
10. Max One Hotels.Com @ Sabang. $39. Jl. KH Agus Salim No 24, Thamrin, Jakarta, Indonesia
11. Studio One Hotel. $37. Jl. Talang Betutu No 15, Thamrin, Jakarta, Indonesia
Hotel around Kuningan
1. Aston at Kuningan Suites Hotel. $111. Jalan Setiabudi Utara, Kuningan, Jakarta, Indonesia
2. Puri Casablanca Suites Serviced Apartment. $72.  Jl. Puri Casablanca No.1, Kuningan 128, Kuningan, Jakarta, Indonesia.
3. Rasuna Icon Residence. $51. Karet Pedurenan NO. 3., Kuningan, Jakarta, Indonesia
4. Puri Denpasar Hotel. $77.  Jl. Denpasar Selatan No. 1 Kuningan, Kuningan, Jakarta, Indonesia
5. JW Marriott Jakarta Hotel. $324. Jl. Lingkar Mega Kuningan Kav. E 12 No.1/2, Kuningan, Jakarta, Indonesia
6. Park Lane Jakarta Hotel. $65. 18 Jalan Casablanca, Kuningan, Jakarta, Indonesia
7. Kartika Chandra Hotel. $69. Jalan Gatot Subroto Kav 18-20 , Kuningan, Jakarta, Indonesia
8. Pomelotel – Patra Kuningan. $45. Dukuh Patra Raya No. 28, Kuningan, Jakarta, Indonesia
Hotel Near Sudirman
1. Aryaduta Semanggi Hotel. $102. Jalan Garnisun Dalam 8, Sudirman, Jakarta, Indonesia
2. Shangri-la Hotel. $219. Kota BNI, Jl. Jend. Sudirman Kav. 1, Sudirman, Jakarta, Indonesia
3. InterContinental Jakarta Midplaza Hotel. $171. Jl. Jendral Sudirman Kav 10-11, Sudirman, Jakarta, Indonesia
4. Grand Sahid Jaya Jakarta. $76. JL. Jend. Sudirman Kav. 86, Sudirman, Jakarta, Indonesia
5. Lasta Residence. $55. Jl. Widya Chandra 2 No.12, Kebayoran Baru, Senayan, Sudirman, Jakarta, Indonesia
6. Crowne Plaza Jakarta Hotel. $130. Jalan Gatot Subroto Kav 2-3, Sudirman, Jakarta, Indonesia
7. Prasada Mansion. $66. Jl. Komando Raya No. 6 (Karet Gusuran), Sudirman, Jakarta, Indonesia
8. The Ritz-Carlton Pacific Place Jakarta Hotel. $323. Sudirman Central Business District (SCBD) JL. Jendral Sudirman Kav. 52-53, Sudirman
Hotel Near Kemang
1. Arion Swiss-Belhotel Kemang. $88. Jl. Kemang Raya No. 7, Kemang, Jakarta, Indonesia
2. Grandkemang Hotel. $98. Jl. Kemang Raya 2H Kebayoran Baru, Kemang, Jakarta, Indonesia
3. Hotel Prapancha. $29. JL. Prapanca Raya 30-31, Kemang, Jakarta, Indonesia
4. The Dharmawangsa Hotel. $288. Jl.Brawijaya Raya No 26 Kebayoran Baru, Kemang, Jakarta, Indonesia
Hotel Near Menteng
1. M Residence. $70. Jl. Teuku Cik Ditiro No.71, Menteng, Jakarta, Indonesia
2. Hotel Menteng 1. $29. Jl. RP. Soeroso no. 28, Menteng, Jakarta, Indonesia
3. Hotel Syariah. $31. Blora Street No. 37, Menteng, Jakarta, Indonesia
Hotel Near Blok M
1. Gran Mahakam Hotel. $247 .Jalan Mahakam I No 6, Blok M, Jakarta, Indonesia
2. Hotel Melawai 2. $48 JL. Melawai Raya No.18, Blok M, Jakarta, Indonesia
3. M Hotel. $48. Jl. Melawai VI No.27, Blok M, Jakarta, Indonesia 121604.
4. Griyadi Blue Pacific Hotel. $38. JL.Sultan Hasanudin No. 42 Blok M, Blok M, Jakarta, Indonesia
5. Losari Blok M Hotel Jakarta. $44. Jl. Panglima Polim Raya No. 3, Blok M, Jakarta, Indonesia
6. Hotel Melawai. $43. Melawai Raya street No. 18-20, Blok M, Jakarta, Indonesia
7. Win Hotel. $35. Jalan Panglima Polim Raya No 99, Blok M, Jakarta, Indonesia
8. Ambhara Hotel. $92. Jl. Iskandarsyah Raya No.1, Blok M, Jakarta, Indonesia
More Accommodation in Jakarta, just Click Logos at below :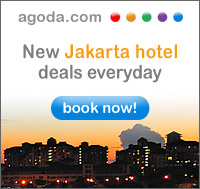 Tourism Information Office in Jakarta:
Jakarta City Government Tourism Office, Jl. Kuningan Barat No. 2, 021-5205455 (info@jakarta-tourism.go.id).
Jakarta City Digital Map and Travel Guide, 5th Floor Jalan Wisma 77 Lt. S. Parman West Jakarta. 021 5369 0808.
Embassies and Consulates
The Embassy is located in Jakarta, except for some consulates general and honorary consulates. Address some of the embassies and consulates listed here:
United States of America Embassy, Jl. Medan Merdeka Selatan No. 5, Central Jakarta, 021 3435-9000.
Great Britain and Northern Ireland Embassy, Jl. M.H. Thamrin No. 75, 021315-6264.
Inggris of Great Britain and Northern Ireland Consulate General in Jakarta, Deutsche Bank Building, 19th Floor, Jl. Imam Bonjol No. 80, 021390-7484.
Canadian Embassy,  the World Trade Centre, 6th Floor Jl. Sudirman Kav. 29, (PO Box 8324/JKS.MP, Jakarta 12 083)), 021 2550-7800.
Australian Embassy,  Jl. H. R. Rasuna Said, Kav. C 15-16 Kuningan, South Jakarta,? 021 2550-5555.
Austrian Embassy Jl. Diponegoro No. 44, Menteng, Central Jakarta. (PO Box 2746), 021 3193-8090, 3193-8101.
Netherlands Embassy,  Jl. H. R. Rasuna Said Kav. S-3, Kuningan, 021524-8200.
New Zealand Embassy,  BRI II Building, 23rd Floor, Jl. Sudirman Kav 44-46. (PO Box 2439 Jkt 10 024), 021570-9460.
Kingdom of Norway Embassy,  Menara Rajawali, 25th Floor, Jl. Mega Kuningan Lot 5.1, Mega Kuningan area, 021576-1523.
Royal Thai Embassy, Jl. Imam Bonjol No. 74, Jakarta 10310, 021390-4052.
Bangladesh Embassy  , Taman Ubud I No. 5 Kuningan, 021 5292-1271.
Brazil Embassy,  Menara Mulia Building, 16th Floor, Suite 1602, Jl. Jenderal Gatot Subroto Kav. 9-11. (PO Box 2482 JKT-1001), 021526-5656.
Embassy of Brunei Darussalam, Jalan Teuku Umar No. 9 Menteng, 021 31906080.
Cambodian Embassy,  Jl. Kintamani Raya C-15 No. 33, 021 520-1373, +62 21919-2895.
People's Republic of China Embassy, Jl. Mega Kuningan No.2, 021576-1039.
Royal Danish Embassy,  Menara Rajawali, 25th Floor, Jl. Mega Kuningan Lot No. 5.1, 021576-1478.
Egyptian Embassy,  Jl. Denpasar Raya Blok A 12 No. 1, Kuningan Timur, Setiabudi, 021 520-4793, 520-4359.
Finland Embassy, Menara Rajawali, 9th Floor Jl. Mega Kuningan Lot # 5.1 Mega Kuningan area, 021576-1650.
French Embassy, Jl. M.H. Thamrin No. 20,? +62 21 2355-7600.
Indian Embassy, Jl. H. R. Rasuna Said Kav. S-1, Kuningan, 021 520-4150, +62 21 520-4152,  021520-4157.
Irish Honorary Consulate in Jakarta, Jl. Terogong Raya No. 33. (PO Box 1078 JKS Jakarta 12 010), 021769-5142.
Jamaica's Honorary Consulate in Jakarta, Jl. Dr. Saharjo No. 52, 021831-1184.
Japan Embassy , Jl.M. H. Thamrin Kav. 24, Central Jakarta, 021 3192-4308.
Jordan Embassy , Artha Graha Building, 9th Floor, Sudirman Central Business District (SCBD), Jl. Sudirman Kav. 52-53, 021 515-3483,  021515-3484.
German Embassy,  Jl.M. H. Thamrin Kav. 24, Central Jakarta, 021 3192-4308. edit
Greece Embassy, Plaza 89 Suite 1203 12th Fl, Jl HR. Rasuna Said Kav. X-7 No. 6,? +62 21 520 7776.
Democratic People's Republic of Korea Embassy, Jl. Jenderal Gatot Subroto Kav. 57. (PO Box 4187 JKTM), 021520-1915.
Sweden Embassy, Menara Rajawali, 9th Floor, Jl. Mega Kuningan Lot no  : 5.1, Zone Mega Kuningan, Jakarta 12950, 021 2553-5900.
Swiss Embassy,  Jl. H. R. Rasuna Said Block X.3 / 2, Brass, 021525-6061
Democratic People's Republic of Korea Embassy,  Jl. Gulf Betung No. 2. (PO Box 6190 MT, Jakarta 10310), 021 3190-8425, +62 21 3190-8437.
Lao People's Democratic Republic Embassy,  Jl. Patra Kuningan XIV No. 1A, Kuningan, 021522-9602.
Malaysia Embassy,  Jl. H. R. Rasuna Said, Kav. X / 6 No. 1-3, Kuningan,? +62 21 522-4940 to 47.
Marshall Islands Embassy, Jl. Prince Jayakarta No. 115 Blok A-11, Central Jakarta, 021624-9054.
Myanmar Embassy,  Jl. Haji Agus Salim No. 109, Menteng, 021 314-0440, +62 21 3192-7684.
Papua New Guinea Embassy, Panin Bank Centre, 6th Floor, Jl. Sudirman No. 1, 021725-1218.
Philippine Embassy,  Jl. Imam Bonjol No. 6-8, Menteng, 021310-0334.
Russian Embassy,  Jl. H. R. Rasuna Said Kav. X-7, 1-2, Kuningan, 021522-2912.
Singapore Embassy,  Jl. H. R. Rasuna Said Blok X / 4 Ave. No. 2, Kuningan, 021 5296-1433, 520-1489.
Republic Serbia Embassy, Jl. H.O.S Cokroaminoto 109, Menteng, Central Jakarta, 021 314 3560,  021 314 3720, 02133 4157 (fax: +62 21 314 3613).
Solomon Islands Honorary Consulate in Jakarta, Duta Mas Fatmawati D2 No. 24, Jl. R.S. Fatmawati 39, 021726-4606.
South African Embassy,  Wisma GKBI, 7th Floor, Suite 705, Jl. Sudirman No 28, 021574-0660.
Spanish Embassy,  Jl. Haji Agus Salim No. 61, Menteng, 021 314-2355,  021 3193-5940.
Sri Lanka Embassy,  Jl. Diponegoro No. 70, Menteng, 021 314-1018,  021316-1886,  0213190-2389.
Vietnam Embassy, Jl. Teuku Umar No. 25, Menteng, 021910-0163, 021310-0358.
Taipei Economic and Trade Office Jakarta, Indonesia, Gedung Artha Graha, 12th Floor (Service Division) and 17th Floor Sudirman Central Business District JL Jenderal Sudirman Kav. 52-53, 021 515-3939, +62 21515-1111.
Timor Leste Embassy, Surya Building 11th Floor, Jl. M. H. Thamrin Kav. 9, 0 21 390-2678, 021 390-26 79.