Pangandaran
pangandaran is the attractions that are excellent beach in West Java is located in the village of Pangandaran Pananjung District with a distance of ± 92 km south of the city Ciamis, West Java. Pangandaran beach has black sand and fine, beach is a popular tourist destination for local residents and surrounding areas on holidays.
How To Get There ?
Susi Air plane from the Bandung-Nusawiru (Pangandaran) from Husein Sastranegara Airport. Plane from Jakarta-Nusawiru (Pangandaran) from Halim Perdanakusuma Airport. Cessnas aircraft with 12 passengers. Airports in Pangandaran is a small runway on the beach and can be reached on foot from the hotel.
Here is a price for the trip to Pangandaran using Susi Air:
Jakarta - Pangandaran – Jakarta: 7 flights / week
Jakarta – Pangandaran: 10:30 to 11:30 (daily)
Pangandaran – New York: 13:30 to 14:30 (daily)
Long flights: 1 hour
Ticket price: Rp 520.000
Cargo : Rp 10,000 / kg
Bandung – Pangandaran – Bandung: 7 flights / week
Bandung – Pangandaran: 12:40 to 13:20 (Daily)
Pangandaran – New York: 11:40 to 12:20 (Daily)
Long flights: 30 minutes
Ticket price: Rp 280.000
Ticketing Office / Reservation Susi Air:
Jakarta : +62 811 212 3921; +62 811 212 3922
Bandung : +62 811 212 3923; +62 811 212 3924
Pangandaran: +62 811 212 3925; +62 811 212 3926
Cilacap: +62 811 212 3927; +62 811 212 3928
By Train. Banjar majors to take a train, next to the Pangandaran you can use the bus.
By bus you can get off at the bus terminal is located in the market just 500 meters from the beach where you can find lots of accommodation. It is close enough to walk, but if you're lazy or loaded with a heavy bag it will not take you long to see a rickshaw is ready to help you ..
Local buses run from Pangandaran bus terminal to / from Tasikmalaya Rp 30.000, 3 hours, Pangandarab to / from Ciamis Rp20.000 2 ½ hours, Pangandaran to / from Banjar Rp12.000 1 ½ hours, Pangandaran to / from Kalipucang or Majingklak Rp 5000 40 minutes and Pangandaran to / from Cilacap Rp 25.000 2 ½ hours. Buses also run along the west coast as far Cijulang Rp 7000 40 min.
The Patas buses generally leave greater than Sari Utama Bakti depot, north of town, and Budiman company bus depot, about 2km west of Pangandaran along Jl Merdeka. Buses used to often go to Bandung Rp 32 000 4 hours (6:00 to 9:00).The most comfortable way to travel to Bandung is by Harum Sari door to door minibus for Rp 50,000. Jaya Perkasa minibus pick up from hotels to travel to Jakarta Kampung Rambutan terminal, Without AC Rp 55,000, with air conditioning Rp75.000 9 hours. Travel agents can also book tickets for buses and minibuses.
Most of the travel agent to rent a car with driver for around Rp 500,000 / day, including driver and gasoline. Develop your own tour and you may be able to negotiate a price. The most popular trip is a three-day tour to Yogyakarta. Regular route will take you to Wonosobo for the first night. The second day went to the Dieng for sunrise, then to Borobudur and last day is to Yogyakarta and Prambanan.
You can use the Becak to get around around Pangandaran price  around Rp 5000 for a short distance, and requires serious negotiations. Bicycles can be rented for Rp 25.000/hari, and rent a motorbike costs about Rp 50,000 / day.
What Will You See There ?
Pangandaran nature reserve nearby on a peninsula connected to mainland by a narrow neck of land. About 80% of secondary tropical forest nature reserve. Flora of nature reserves including the Rafflesia.
Green Canyon Travel through some forests are truly amazing – rich with a large teak trees, palms, vinery various hanging and a vast bird-pitched voice. This canyon with a length of several hundred meters. At the end of the pass, have the opportunity to jump from 5 meters stalagmite formations rising from the canyon floor to the pool far below. The stones are not sharp / slippery and there are a myriad of creatures in About a harmless, such as frogs, dragonflies and miniature crab to admire as well.
Paradise beach of a deserted island with white sand that will satisfy all your feelings adventure Robinson Crusoe for a day. Rent a boat Rp 600.000/hari. If you go there you will enjoy a slice of paradise.
Citumang located 15 km from Pangandaran outside. English name is Green Valley. It's very nice to walk there to the Waterfall. It's possible to swim in the river with very clear water.
What Will You Do In Pangandaran ?
You can do the activities go to the beach, sun and surf. However, there is so much more of heaven there. Rent a bike and explore the surrounding area. Not far from the beach, you'll find the lives of local residents who are looking for a meal as a farmer and cattle herding. Take a trip to Green Canyon and proceed to Batu Karas, for some of the best surfing on the island of Java has to offer.
Surf lessons are offered in Pangandaran, the price varies around Rp 200,000 to 250,000 / day. Every hotel and tour operators will let you know about this as soon as you arrive.
Green Canyon and travel / treks to the local tribal communities eager to offer. They average around Rp 150,000 / day.
ADOPTION CORAL, Contributing with Nature and also protect, transplantion coral has occurred in Pangandaran to contribute to the rehabilitation of coral reefs. in the last 2 years, this program has been extended to allow tourists to participate. join and become foster parents for the reef.
BICYCLE FOR DISCOVERY (Heartland South Coast), beyond the beach, Pangandaran Attraction with a bicycle tour. Enjoy the rural experience across the fertile rice fields, gardens and coconut plantations. Take fresh air from the village and watch the local farmers to start their day and their daily lives, and trying to track down the other and become downhiller.
Canoe, paddle boat to explore the river and around Pangandaran feel the sensation of a different nature atmosphere.
Culture, Traditional Dance Ronggeng Mountain is a traditional dance originated from Pangandaran. This is closely connected with the history of local girls' Goddess Rengganis. Rengkong and Gondang is a traditional dance to celebrate the harvest period on the southern coast of West Java. Local people have developed a special performance for your tour to see the exciting dance outdoor settings and in their villages yard from the traditional stage.
TUNNEL EXPLORATION, is one proof of Pangandaran preserve evidence mute rail routes on the south coast of Java, Tell  back from his role as one of the plantations in the colonial era. rail line is located from Banjar – Pangandarn – Cijulang though no longer used, tracks and tunnels remain their appeal and provide the perfect place for trekking tours in the hinterland.
Other interesting to do in Pangandaran : Cooking Lesson, Wooden Puppet Carving Lesson,  Traditional Dance Lesson, Feel The Village Atmosphere and stay at the local house.
Batu Karas
This small fishing village located 32 km from Pangandaran, Batu Karas is one of the most relaxing and enjoying your holiday in Java, it also has one of the best beaches and surf, sheltered by rocky headlands. Accommodation is favored by surfers can be found 1km outside the village of fishermen on the coast of the peninsula. Surfboards can be rented at a price Rp 35, 000 / day and lessons are available.
The Best Accommodation In Pangandaran:
1. Surya Kencana Seaside Hotel. $38.  West Beach Street, Pantai Barat, Pangandaran, Indonesia
2. Nyiur Resort Hotel. $50. Jl. Bulak Laut 55, Pantai Barat, Pangandaran, Indonesia
3. Puri Indah Beach Hotel. $50.  Jl. Bulak Laut No. 12, Pantai Barat, Pangandaran, Indonesia
4. Mango Guesthouse. $12. Jalan Baru Bulak Laut RT03 RW02 Dusun Karang Sari, Pantai Barat, Pangandaran, Indonesia
5. Panorama A La Plage. $10. Jalan Pamugaran , no 1 . Boulevard, Pantai Barat, Pangandaran, Indonesia.
6. Java Lagoon Hotel. $10. Karang Tirta, Desa Sukaresik Kec.Sidamulih Kab.Ciamis, Pangandaran, Indonesia
7. Pondok Kidang. $42.  Jl. Kidang Pananjung No.144, Pantai Barat, Pangandaran, Indonesia
More Info about Accommodation in Panggandaran, Just Click Logo Below :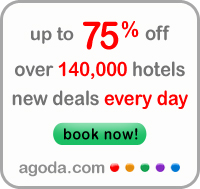 Tour Agent there:
Tour to Pangandaran Nature and Culture Temptation, Kangkareng is offering a special tour. visit our yard http://www.facebook.com/profile.php?id=100000905181548
For information: kangkarengtour@yahoo.com