Sulawesi Tenggara
Southeast Sulawesi is a province in Indonesia that capital of Kendari.
Sulawesi province has a land area covering 38,140 km ² and waters (sea) area of 110,000 km ².
Southeast Sulawesi population numbered 1,959,414 inhabitants.
History
Southeast Sulawesi was originally a name of one of regencies in South Sulawesi Tenggara with smells as the district capital. Initially consisting of 4 (four) districts, namely: Kendari County, District Kolaka, Muna and Buton regency with smells as its capital city. Then change into the provincial capital of Kendari. After expansion, the South East has 10 districts and 2 cities.
Sulawesi Tenggara, How to go there ?
An easy way is to take a transit flight to Makassar then Kendari.
what will we do in Sulawesi Tenggara ?
Tourists can visit the tourist objects in this place are:

Wakatobi National Park, in the Wakatobi which is the underwater paradise of coral triangle which has the world's 750 species of coral reefs of the world's 850 species of coral, Visitors can see the coral reefs 40 km and also the beautiful beaches.

For Baubau City has a beautiful white sand beaches and caves. Name of Beaches in Baubau is Nirvana beach, and beach Lakeba Kamali, while for the cave is the Cave of moko and lakasa.

For there Buton District Tourism Underwater Basilica, Buton Regency is the area of integrated development of the basilica (Batauga Island, Siompu Island, Island and Island Liwutongkidi Kadatua). This area is rich with various sea attractions such as beaches and underwater attractions.
The Best Accommodation in Sulawesi Tenggara (Souteas Sulawesi ), Just Click The Logo at Below :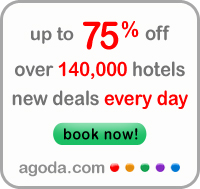 Source : Sulawesi Tenggara