West Papua / Papua Barat
Papua, also known as West Papua and Irian Jaya before named, this place is situated in the eastern part of Indonesia. Western part of this island is Indonesian territory, while the eastern part is Papua New Guinea state.
West Papua still maintain traditional culture and is home to some of the richest biodiversity in the world. Lorentz National Park, this is a UNESCO World Heritage Site and the largest protected forest in the Asia-Pacific, ranging from the southwestern coast to the mountains of central Papua.
West Papua has several cities, among others:
Biak, Fakfak, Jayapura – the capital and largest city, Manokwari, Merauke,
Sorong, Timika – staging post for one of the largest mines in the world, Wamena – gateway to the Valley Baliem.
Other destinations: Baliem Valley – the home of the famous penis-gourded Dani warriors, Lorentz National Park – The Largest national park in Asia, Raja Ampat.
West papua History
Originally a Dutch colony as part of Indonesia, West Papua hold an election in 1959 and elected council took office in 1961, in preparation for full independence. However, the Dutch handed the region to temporary UN administration, which in turn gave it to Indonesia in 1963. This region is the first name of West Irian (Irian Barat) and Irian Jaya (West Papua) has been under heavy military control of Indonesia since then, with outgunned Movement Papua Merdeka (Free Papua Movement or OPM Operations) fought for independence.
Papua name returned in 2000. The province was split into two in 2003 in a move that is very controversial, with Bird's Head Peninsula and surrounding islands into West Papua (Papua Barat). A split further to create a third province of Central Papua, abandoned because of fierce opposition.
Comprising the western half of New Guinea island, the largest island in the world and the highest tropical, West Papua is very diverse and different from all of Indonesia (or, for that matter, elsewhere in the world). Although the population of under three million, West Papua is home to more than 250 languages and still maintain the traditional culture. Cannibalism and headhunting was practiced in some areas until the 1970′s.
Terrain and ecology
A vital tropical rainforest with the tallest tropical trees and vast biodiversity, West Papua known forest fauna includes marsupials (including possums, wallabies, tree-kangaroos, cuscuses), other mammals (including the endangered Long-beaked Echidna), many bird species (including birds of paradise, cassowaries, parrots, cockatoos), the world's longest lizards (Papua monitor) and the world's largest butterflies. The island has an estimated 16,000 species of plant, 124 genera of which are endemic.The extensive waterways and wetlands of Papua are also home to salt and freshwater crocodile
Large parts of the equatorial glacier fields in the highlands remain largely unexplored. Protected areas within Papua province include the Lorentz National Park, a UNESCO World Heritage Site, and the Wasur National Park, a RAMSAR wetland of international importance.
West Papua, They use the cover of Indonesia to communicate with each other
Travel permits required for all trips in West Papua outside the major coastal cities. List of Changes at random, but are generally free of Jayapura and Biak, and Sentani, Manokwari and Sorong are usually fine. Permits most easily obtained in Jayapura and Biak, where they usually can be obtained in one day, although they are usually available in a non-permit town as well. Two passport photos and sign administrative costs (Rp 5000 or more) are required.
Permission must be registered in all the places you plan to visit, no change in permission, unless you get a new one in the main city. Each time you arrive in a new town in West Papua, you should get your permit stamped at the police station. Make multiple copies, you will need it for hotels and such.
Despite the claims of several embassies to the contrary, no permit is required to travel to West Papua. Better not to mention at all Papuans when applying for a visa.
Almost all visitors arrive by plane. The main gate is Biak, Manokwari and Jayapura, although there are limited flights Fakfak, Sorong and Timika. Only Garuda which has direct flights from Jakarta to Jayapura, the capital, all other operators, including Merpati, Lion Air and Batavia Air, fly circuitous routes with stops in cities such secondary Denpasar (Bali), Makassar (Ujung Panjang).
Susi Air  local destinations across West Papua.  +62 811 211 3080
Pelni ship also stops in Jayapura and Fakfak. This is a relaxed and interesting way to arrive if you have time.
The only land border crossing between Papua and Papua New Guinea open to foreigners is on the north coast between Jayapura and Vanimo (PNG). There is no public transport across, so car or motorbike hire for some of the distance is required. Advance visas are required.
The main towns of Papua are not connected by road, Flying is the only practical option to cover longer distances. Charter boat for river travel is surprisingly expensive, the price of U.S. $ 50/day for a simple boat to a whopping U.S. $ 500/day (including gas) for the outboard motor.
There'll see people Wearing koteka – Dani traditional dress for men.
Best Accommodation in Jayapura, Just Click Hotel Name's for booking & more ditel :
1. Hotel Yasmin, $37. Jl. Percetakan Negara no 8A, Jayapura, Jayapura, Indonesia.
2. Travellers Hotel Sentani. $112. Jalan. Kemiri Raya No.282, Kel. Hinekombe Distrik Sentani, Jayapura, Jayapura, Indonesia
3. Hotel Le Premiere Papua. $39. Jl Raya kelapa dua entrop no 18, Jayapura, Jayapura, Indonesia
4. Mahkota Beach Hotel. $22. Jl. Hamadi Tanjung no 1, Jayapura, Jayapura, Indonesia
5. Hotel Andalucia Papua. $66. Jl Tanjung Ria no 5 ( dok 9 ), Jayapura, Jayapura, Indonesia
6. Swiss-Belhotel Papua. $96. Pusat Bisnis Jayapura, Jayapura, Jayapura, Indonesia
For More Accommodation in West Papua, just Click Logos at  Below :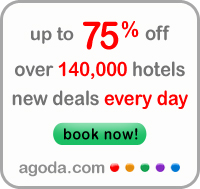 West Papua, Must be careful
The Free Papua Movement (Operasi Papua Merdeka or OPM) continues to operate throughout Papua and all of Papua's major cities have seen violently suppressed riots. The OPM has also kidnapped Western hostages on two occasions, although their targets are mining company employees and Indonesian security personnel, not tourists. Large saltwater crocodiles can be encountered in all low-lying waterways and beaches.
Malaria is endemic to the province. Precautions are highly recommended.
Reference : West Papua